Wednesday, April 30, 2008
Here is a clip from last saturday, before the rain started!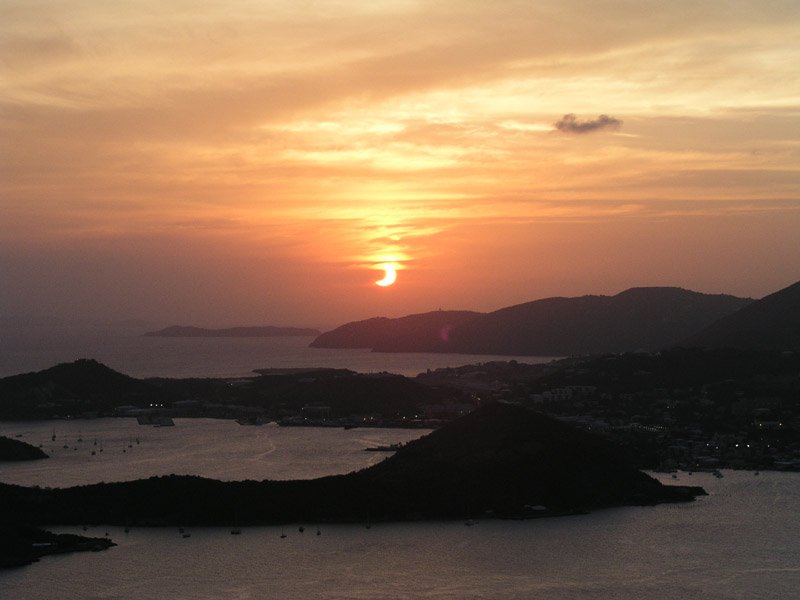 Yesterday I had a day off so I decided to show my new buddy Dwayne around the island! He just moved here from California and had yet to see the north side of the island. So, we started our adventure at 10am by walking over to Glady's for breakfast. Chatting with Glady's about her wall of fame and enjoying a delicious brekky was a great way to kick off the day. After that we caught a cab over to Hull bay, to the Hull Bay Hideaway where we played some pool, had some cocktails, sat in hammock chairs and watched the surf roll in. Hull bay isn't the best spot for swimming because there are boats anchored everywhere and the surf was pretty big so we decided to take a ride over to Magen's bay which is one of the best beaches on the island and just so happens to have the best pizza on the north side. So we grabbed a slice, a cocktail, and set up our towels and jumped in the ocean for a swim. We spent a couple of hours frying on the beach and trading i-pods before we decided to head to the Rum Shack for happy hour. I introduced Dwayne to all my buddies there in Havensight, walked him around to Offshore bar and Capt. Mayhem's, then we took the Sky Ride up to paradise point to catch sunset and to listen to The Four Horsemen, a really awesome local band. We had a couple of Bushwackers and some munchies before calling it a day. It was a long day, and I had a really great time spending the day out and about on the island. I got really sunburned but I am taking the day off to recover and I head back to work in the morning! Back out on the caribbean sea! I am ready! I love my job!
Posted by

Jolea
at 8:39 AM
1 comment:

Friday, April 25, 2008
I have been working my butt off! Literally. I am withering away to a stick figure version of myself. Cool. Ha! Work is great though, I get to go to the British Virgin Islands every day, lay on the beach for an hour, eat lunch on the boat for free, go snorkeling for an hour and come home. This takes all day mind you. I have to wake up at 5am to get to work and I don't get home till 7pm. So when I get home I basically eat a sandwich while showering and fall into my bed and go to sleep.
Life on the island has been good and wild and crazy and scary all at the same time. A week or so ago a dead guy came floating up on the waterfront outside my apartment, thank god i didn't find him. I walked right past him on my way to work, but as I said, I go early so I was half asleep and didn't notice him bumping up against the rocks. My landlord found him about 10 minutes after I left for work. Turns out he was a local man who lived on a boat across the bay. No foul play was suspected. A day later, another dead guy floats up. This time he was fully clothed wearing jewelry and had his wallet on him so they think he got drunk and fell in the water. Creepy.
This week is Carnival! But I have been too busy to explore it really. I went to the Carnival village with Jill and Doug the other night and ate the hottest Pate I have ever had! It should be illegal!
On Wednesday I went to St. John to a birthday party. About a month ago some people who work at the Maho Bay Campground came out on my boat for the day. We had a great time and they invited me to Amanda's birthday party April 23rd. So I got the day off and went over. It was a theme party down on big Maho bay, a white party. Everyone wore all white! It was so cool. We had white sangria, champagne and painkillers. (THE DRINK! NOT PILLS!) I will post pictures as soon as I can. I left my camera at Amanda's. Anyway, Maho campground is this tent/cabin village, and all the people who work there live in tent/houses too! It is the coolest place ever! I will try to find some pics of that. Thanks to everyone at Maho for making my first trip to St. John full of wonderful memories!
In other news, I am looking to buy a suzuki samurai, the ultimate island car. I have been spending alot of money on taking a cab to work and in the long run I will save so much if I buy a cheap car. Soon I will be able to explore the island without spending a ton of money on cabs.
Big shout out to Maria in the FAR EAST! I know she has to be missing boat life by now! I miss her funny/crazy/true stories from the bay in Mexico!
xdsiu/; <--- that was written by Gray Kitty, who just walked across my macbook. :)