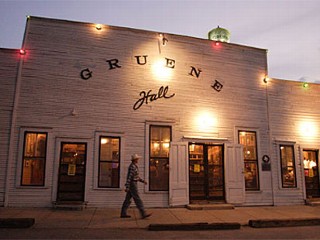 To Grandma and Grandpa's house we go! I love going to the G'parent's house. It has a smell that just reminds me of being little and chasing cats around the house, while grandma screams at the Cowboy's football game on the TV, (which used to make my brother cry when he was little, poor little feller). It reminds me of many Thanksgiving's and big breakfasts and Christmas, which are 3 of my favorite things! It reminds me of my cousins and how we used to see them about once a year, I can't tell you the last time I saw any of them. (on my dad's side) I also love the area of Texas they live in! They live in New Braunfels, which is south of Austin in the Hill Country area. It's beautiful down there, lakes and rivers and rolling hills everywhere. There are all sorts of small towns out there, most of them with a German name or influence as the first settlers in that area were, of course, German. There is a little town named Gruene, pronounced "green" that we like to visit when we get down that way. Gruene is full of little artisan shops and music. The famous Gruene Music Hall is there where the likes of George Strait and Robert Earl Keen played their first shows, they still come back to play homage to this place frequently, you never know who you may see strolling through the streets of Gruene.
What a beautiful weekend for a road trip! I love road trips! I will take pics and post them up as soon as I can!
Oh, and... I have a job interview with a ski resort in Alta, Utah on Tuesday... Wish me luck! Tee hee I am so excited!