This is a good one, It's called Nextville, by Barbara Corcoran. It's about the coolest places to retire!
Return to Treasure Island and the Search for Captain Kidd, by Barry Clifford. It's about Barry and his buddy searching for Capt. Kidd's ship Adventure Galley and they run into all sorts of trouble, find pirate ships and treasure and run into modern day pirates in the process... cant wait to dig into this one...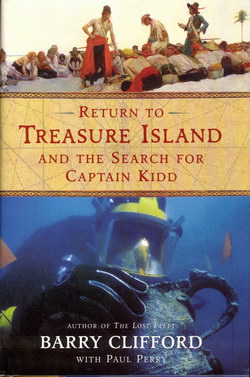 Living with Cannibals and Other Women's Adventures, by Michele Slung. A collection of stories by women travelers from the 18th to the 21st century. That pic on the cover is of a self taught mountineer named Fanny Bullock Workman atop a boulder in Pakistan in 1908. Can you imagine that???
Fly Solo: The 50 Best Places on Earth for a Girl to Travel Alone, by Teresa Rodriguez Williamson, the founder of
TangoDiva.com
and it's a lovely read. Has a little quiz at the beginning that suggests which places you should travel to by your answers. I took the quiz, my suggestions were:
Buenos Aires (Wanna go there because that's where Che Guavara is from)
Hong Kong
Beijing
Vienna
Brussels
Reykjavik, Iceland
Crested Butte, Colorado (I learned to snowboard there when I was 17)
Fairbanks, Alaska
Athens
San Diego
St. Moritz, Switzerland
Rio De Janiero (Been wanting to go thre forever)
San Francisco
Berlin
Dublin(Duh!!!)
Stockholm
(why arent there any island like places on my list?)
I haven't actually read any further than that so maybe there aren't any islands in the book... I'll let ya know.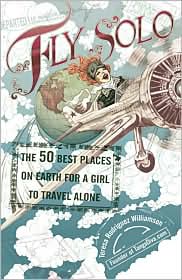 A great book! I have checked it out before. Steady as She Goes: Women's Adventures at Sea, by Barbara Sjoholm. It's a collection of adventures from women at sea. :) True stories. Great read.
I read a few chapters today and it brings back hellish memories of the Delivery Job From Hell i did last year, which I have suppressed most of. I should remember that experience to keep me from ever putting myself in that situation ever again.
That's it! Can I tell you a few of my favorite books that I actually own in my collection? Thanks...
A Salty Piece of Land, by Jimmy Buffett.
Possibly my favorite book ever. (besides Werewolves Don't Go to Summer Camp and Where the Wild Things Are.)
A favorite of mine, since one of my dreams is to drive across the country on a great road trip, is Blue Highways, by William Least-Heat Moon. Yep that's his name.
It's such an awesome look at America and this man's decision to take the roads less traveled. "blue" highways refers to the ones that are blue on the map, the two lane ones. Red highways on the map are major interstates. Anyway, he travels in his van that he converted into a mini RV and sleeps at rest stops and on the side of mountain roads, where he runs into some interesting characters and even a few ghosts. It's really a great read. If you can find it pick it up.
Then there is the book, Flaming Iguanas, by Erika Lopez. This chick bought a motorcycle and convinced a friend to get one too, rode across the country getting into all sorts of trouble, losing her friend who turned back way too early in the journey, uses her street savvy skills to get her out of sticky situations, all while wearing this leather jacket that she stitched her "motorcycle gang" name onto the back of. The Flaming Iguanas. It's interesting for sure. Hell, I bought the book.
Oh speaking of road books, Anthem: An American Road Story. This book rocks. It's the account of 2 women who set out on a road trip/documentary making adventure. Stopping in cities across America and speaking to ground breaking and influential folks across the country. My favorite chapter is when they actually get invited to Hunter S. Thompson's Owl Farm (His home in Colorado) and they spend a few days with the late great Gonzo Journalist. A must read. P.S. you can get the Anthem DVD and see their journey if you don't feel like reading the rather large book.
Ok. Gotta go cook dinner! Honey Baked Ham with pan fried potatoes, mac and cheese and black eyed peas. :) YUM. I'm gonna drink some wine tonight.